Accueil > Sociétés Civiles à Parlement Européen > Attend Palestinian-American child Tarek Abu Khdeir's court hearing on (...)
URGENT APPEAL : - By ADDAMEER
Attend Palestinian-American child Tarek Abu Khdeir's court hearing on Sunday to protest his violent beating in Shofat by undercover Israeli police agents
Samedi, 5 juillet 2014 - 6h23 AM
samedi 5 juillet 2014
============================================
<
​
4 July 2014, occupied Ramallah - Addameer is deeply concerned about the continued and intensified attacks on Palestinian children, especially in the Jerusalem area, as retribution for the discovery of the bodies of three settlers in Hebron after their disappearance on 12 June.
The most recent attack is on Palestinian-American child Tarek Abu Khdeir, aged 15, who was brutally beaten in the yard of his uncle's home by two undercover Israeli police agents in Shofat last night. Tarek is a United States citizen from Florida who is visiting Palestine on holiday.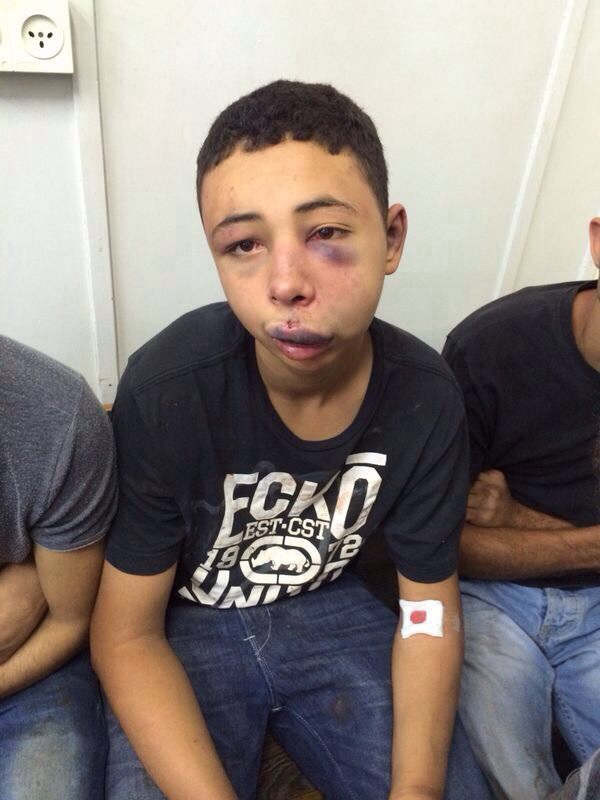 Photo provided and published with consent from the Abu Khdeir family.
On 3 July, around 8pm, Tarek was brutally beaten, primarily in his face and head, and arrested without any charges or accusations brought against him. He was taken to a police station despite his family's requests that he be urgently treated at a hospital for his injuries. According to Tarek's father, the Israeli police delayed treatment for about 5 hours until 1:20AM, when he was transferred to Hadassa Hospital. The family was denied access to Tarek until his hospitalization.
No charges or accusations have been brought against Tarek, yet his despite his young age and unlawful treatment, his detention has been extended until the morning of Sunday 6 July in the Court of First Instances in Jerusalem.
Tarek is one of 11 Palestinians who were beaten and arrested in Shofat last night following the brutal murder of 16-year old child Mohammad Abu Khdeir, who was found beaten and burned on the ruins of Palestinian destroyed village Deir Yassin hours after he was kidnapped in a retribution act. The Israeli government has instated a gag-order regarding the circumstances of Mohammad's kidnapping and murder.
The continued state-sanctioned violence against children is unlawful and unacceptable.
Addameer urges immediate action and calls on the United Nations, the International Committee of the Red Cross, the United States consulate and all regional embassies and consulates, human rights organizations and journalists to attend Tarek Abu Khdeir's hearing on Sunday 6 July to investigate the intensified aggression against Palestinian children.
The hearing will be held on Sunday 6 July in the morning at the Court of First Instances in Jerusalem, next to the Jerusalem Municipality and Russian Compound. For inquiries, please contact : info@addameer.ps